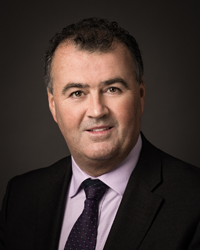 David Colbert – Managing Partner
David Colbert, is a partner in Sheehan & Company LLP, Solicitors and is currently the Firm's Managing Partner.
David practices mainly in Residential and Commercial property and heads up the Firms New Homes Department. He advises many of the largest developers in the Irish market on all aspects of real estate transactions, from initial identification of the site through to the final disposal by either direct sale, Block sale to investors or letting of the developed units.
David has developed an expertise in Block Sales of residential Units to institutional Investors and has been involved in a number of high-profile Block sales over the last number of years. As a result, David and his team has market leading expertise in complex forward funding / forward purchasing arrangements of residential Blocks involving hundreds of apartments and houses.
David has lectured on the Law Society's Professional Courses and as part of the CPD programme on topics including:
Acting for Developers in New Residential Schemes
Sale and purchase of Residential Tax Designated Properties

Sale and Purchase of Second-hand Units in Managed Schemes

Mixed Developments

Stamp Duty, in particular, the application of the Revenue Certificates in Deeds
David was a member of the Law Society's task group reviewing the effect of the Multi Unit Developments Act 2011 and has an expertise in all matters concerning the application of this Act.
Additional Information:
Admitted to the Roll of Solicitors in 1991
Qualifications and Memberships:
Member of the Law Society of Ireland
Member of the Dublin Solicitors Bar Association
B. A. (Hons) (NUIG)
LL.B (Hons) (NUIG)